Building a Strong Brand Reputation: Tips for Small Business Owners
I don't know if you know this: Your BRAND REPUTATION isn't just about how good your cakes are or how pretty your packaging is. It's the SUM of what people think, feel, and say about your business. And in the baking industry, your reputation will ALWAYS precede your skills, abilities, and talent.
So how do you build a solid brand reputation and establish yourself not just as a BADA** baker but as a LEADER?****
By strengthening your KNOW, LIKE, and TRUST factor.
Picture this: a customer comes across one of your reels on Instagram. They see your logo, colors, and maybe one of your new products too. Now they KNOW you exist! But to turn that spark into NEW SALES, they need to LIKE what you offer, and TRUST that you'll deliver the goods, so they can keep coming back for more.
In this blog post, we're sharing expert tips and tricks to help you strengthen your brand reputation and make your bakery the talk of the town. From delivering on your promises to harnessing the power of social media, we'll hand you PROVEN strategies that you can start implementing ASAP. Let's get started!
#1-Consistency is QUEEN
If you want your customers to KNOW and remember you, you need to make sure they see the same colors, images, and messages every time they come across your brand, whether it's on social media, your website, or even on your packaging.
Being consistent with your branding is about making sure that the way you PRESENT your bakery remains the SAME across all your marketing channels. This helps build brand recognition and gives you a distinct personality of your own.
Think about iconic bakeries like Magnolia Bakery in New York City. Their signature pastel colors and vintage aesthetic are as consistent as the cream cheese frosting on their famous cupcakes. You spot those candy-colored stripes, and you instantly KNOW you're about to eat some of the BEST treats in the world.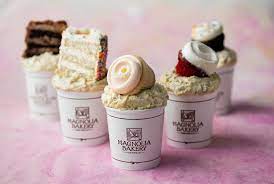 Consistency in your brand's voice and messaging is important too. A good example is Sprinkles. Their cheeky and playful tone shines through in everything they do – from their in-store signage to their website copy. It gives them a unique identity that stands out loud and proud!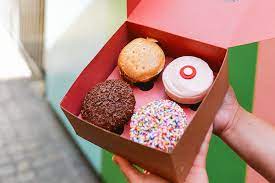 #2-Highlight your PURPOSE
When it comes to building a strong brand reputation, it's not just about the goodies you sell – it's about what you STAND for as a bakery and a business.
Communicate your mission and values to highlight your purpose and give your customers a reason to LIKE you.
When customers know what their favorite businesses stand for, they can make a conscious decision to do business with places that share their values and support their community.
Take Luminary Bakery in London, for example. The bakery provides opportunities for disadvantaged women to take back control of their lives and build holistic futures. Their mission statement, "A cake that makes a difference," not only reflects their purpose but also gives customers a cause to rally behind. Supporting Luminary Bakery means supporting empowerment and positive change, allowing customers to indulge in a sweet treat while making a meaningful impact.
So think about how you can use your mission statement to convey your unique value, create emotional connections with customers, and set yourself apart from the crowd.
#3-DELIVER on your promises
If you want your customers to TRUST you, you need to establish yourself as someone your customers can RELY on. It's not just about talking the talk – you need to walk the walk and make good on every single promise you make.
So if you proudly declare that your ingredients are locally sourced, and your products are made from scratch, they better be made from scratch with local ingredients. And when it comes to delivering orders, don't be that person who is always running late. Your customers are counting on you to deliver on your promises (no pun intended). Be the bakery that surprises them by showing up ON TIME, who goes above and beyond and make their day.
Don't just meet expectations – EXCEED them! Go the extra mile and impress your customers with every interaction. Once they know they can count on you to deliver on your promises, they'll become loyal customers for life!
#4-Manage your ONLINE reputation
If you wanna establish a rock-solid brand reputation, you HAVE to leverage social media.
Here are 3 power moves to help you monitor and manage your online presence like a BOSS:
Get social: Use social media to actively connect with your community. This is the WHOLE reason why social media exists… to be SOCIAL. Share mouthwatering pics of your creations, host fun contests, and participate in conversations happening in the comments sections. Be the life of the online party and build relationships that'll eventually turn into sales. People fall in love with people! You feel me???
Monitor your brand's online image: Keep an eye out for reviews and mentions of your bakery on social media. Don't SHY away from the conversation. Whether it's a five-star review or a not-so-happy customer, address it promptly and professionally. Show the world that you care and are committed to making things right. Turn those negative vibes into positive opportunities, and you'll be winning hearts in no time!
Remember, social media is more than just a sales pitch. Use it to engage, inspire and connect with your audience. You won't get instant results, but once you establish your online image and credibility, the sweet rewards WILL roll in over time!
So there you go, sis. It's now time to put these tips into action and whip up a rock-solid brand reputation! Remember, your customer's opinions MATTER, but not everyone will fall in love with your business. So, this week, stop obsessing over sprinkles and frosting and spend some time this week working ON your business instead of working in it.
And if you want more juicy business tips on how to PRICE your products for success, sign up for our exclusive PRICING MEMBERSHIP! We meet LIVE once a month to share PROVEN pricing strategies, dish out valuable advice, answer burning questions, and analyze the hottest trends of the baking world. It's the ultimate combo of fun, learning, and community – and once you're in, I swear you're gonna wish you'd found us sooner. Our next session's on Thursday, June 1st, 2023, sign up here TODAY →