4 CRUCIAL steps you need to do to BEFORE starting a baking business!
Let's be REAL: Launching your own BAKING BUSINESS is no cakewalk. (no pun intended)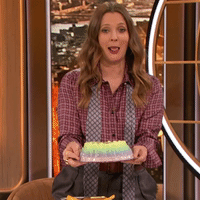 It's not just about picking a cute name and pretty packaging and making cute sh*t all day. You need to register your business, set up your finances, get trademarked and figure out a SH*T TON of other legal and logistical things.
And SPOILER ALERT: The hard stuff doesn't end there. When you start a business, you're gonna spend a LOT of time doing things you didn't sign up for – like taxes, payroll, sales, marketing. And IMAGINE doing ALL this while working your 9 to 5, raising a family, and trying to balance your personal life (!!!)
I'm not trying to scare you but I can't sugarcoat reality for you, friend. And YES, it can feel overwhelming and daunting AF, but with the RIGHT resources and guidance, YOU can power through this and get to the fun stuff (like baking & creating pretty things and making MONEY) ASAP!
So without wasting more time, let's jump right into the 4 most important steps you CAN'T skip when you're starting a baking business (or ANY business of any kind!)
1) Choose Your Business Name
Choosing the PERFECT business name is a lot like creating that PERFECT recipe – it takes time, effort and creativity!
Your business name is the FIRST impression your customers will have of your business, so you've GOTTA pick something unique and memorable that reflects YOUR brand.
Some tips to keep in mind while choosing a name:
Make it easy to spell and pronounce. When people google your business name, you don't wanna make it hard for them to find you. We wanna make it as EASY as possible.

Make sure it MAKES SENSE. If you're starting a photography business but use a name like "written in stone," it doesn't really sound like you specialize in photography, right?! Remember: Clear >> Clever.

Always

.

Avoid using numbers and hyphens. This is just a NO-NO. Don't do it.

Make sure the domain name and social media handles are available. This is a crucial step for marketing your business.
Don't be afraid to get creative with puns and wordplay! And if you're comfortable, you can always keep it simple and use your OWN name. Remember, your business's name represents your brand, so choose SMARTLY, think hard about it and have fun!
2) Open a Business Bank Account
My #1 business advice to ANYONE starting their own business: Open a SEPARATE bank account for your business!
I built a 7-figure business from scratch AFTER filing for bankruptcy, so I know a thing or two about finances. Trust ME when I say, keeping your personal and business finances separate will make your life 100x EASIER. It'll help you keep track of all your dough (pun intended!) AND it'll make it WAY easier to get approved for loans or credit in the future.
When you go to the bank to open your account, you'll need to bring along your business name, tax ID number, and personal identification. Once your account is set up, you can start using it for all your business transactions, like accepting payments and paying bills. DO NOT put this off for later, open that separate bank account and get your business finances in order from DAY 1!
Bonus Tip: Do your research and figure out which credit cards will work best for YOUR business. Here's a handy guide on the best credit cards for small business owners to help you get started →
3) Register Your Business
It's time to make things official, y'all! Officially registering your business can seem like a daunting task, but I swear it's not as complicated as it seems.
First, you need to decide on the type of business structure you want: Are you going solo with a sole proprietorship, or do you want to bring on partners and go for an LLC? Choose the structure that works best for YOU and YOUR business goals.
Check out this article by the U.S. Small Business Administration on the different types of business structures you can choose from →
Once that is sorted, you need to register your business with the appropriate government agency. I used legal zoom, and it was super easy, and user-friendly, I didn't have to leave my couch. This will vary depending on where you live, so do your research and find out what the requirements are in your state. And remember, registering your business also means getting a tax ID number and registering for any necessary licenses and permits.
Bonus Tip: Licenses, permits and cottage laws
Obtaining the necessary licenses and permits to operate your business is like adding the final touches to a cake, it can be a bit tedious, you're kinda over it at this point, counting down the hours till you're done, but you CAN'T do without it.
Licenses and permits vary depending on where you're located and the type of business you're running. For example, you'll need a food service permit if you're selling food. If you're operating a brick-and-mortar store, you'll need a business license. Do your research and find out what licenses and permits are required in your area – and DON'T get started til you have these in place!
Cottage laws are SUPER IMPORTANT when you're starting a baking business. These are laws that allow individuals to make and sell certain food items from their home kitchen WITHOUT having to comply with the same regulations as commercial kitchens. Each state has its own cottage laws, so it's important to research and comply with the laws in your area. Check the laws and regulations for packaging, labeling, and other aspects of your home-based business to ensure that you are operating legally.
4) Get Trademarked
You OBVIOUSLY don't want other people to open up businesses with your name OR impersonate your brand. And the best way to make sure that never happens is by trademarking your business name and logo. A trademark is a symbol, word, or phrase that identifies and distinguishes the goods or services of one party from those of others. Trademarks prevent others from using your name, logo or any similar variations of it. If they do, guess what, you can SUE!
To trademark your business name or logo, you need to conduct a trademark search and file an application with the United States Patent and Trademark Office (USPTO). Make sure you check with your state too, as some states have their own trademark registration process.
Now I KNOW that sounds like a HELL of a lot of work, and a lot of time, but here's the GOOD NEWS –
You don't need to do this ALL by YOURSELF.
My FREE Bake Out Your Business Bundle contains STEP-BY-STEP instructions and "been-there-done-that" advice on how to launch your business RIGHT and pave the way for your SUCCESS. I'm literally handing you every single step you need to take to get your business started on the yellow-brick road to success.
Here's what you'll find inside:
8 tips to help you PROPERLY name your business

Your Small Business Startup checklist to make sure you've got ALL your bases covered

A Business Expense Essentials tracker to help you start tracking your finances right away

A 10-step guide to help you make your business LEGIT and start off on the right foot
PLUS, you'll receive a BONUS of must-have APPS and resources you'll need for your business!
Because you shouldn't have to stress and worry whether you're making the right decisions this early in the game.
You're just a few steps away from OFFICIALLY becoming a BADA** BUSINESS OWNER, friend! Grab the FREE BUNDLE to start bringing your DREAM business to life TODAY →